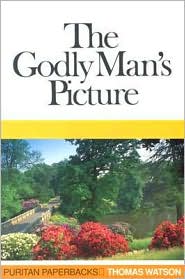 I just finished reading this book, thanks to the Es for opening up their library to me! Due to the time change I got in an extra hour of reading this morning, still haven't gotten that extra hour of seep, but the reading was nice.......I love reading Thomas Watson, he has a way of putting things that is easy to read and understand. I remember the first book I read by him was
The
Ten
Commandments
. Years ago, as part of our homeschooling, my father had us read a chapter, and write a report on it every week. I still have one of those reports!
This book is subtitled
Drawn
With
A Scripture
Pencil
,
Or
Some
Characteristics
Of A Man
Who
Is
Going
To
Heaven
and in summary is a man who has knowledge, is moved by faith, is fired with love, is like God, is careful about the worship of God, who serves God and not men, who prizes Christ, who weeps, who loves the Word, who has the Spirit of God residing in him. A man of humility, of prayer, and of sincerity. A heavenly man, a zealous man, a patient man, a thankful man, and a man who loves the saints. A man who does not indulge himself in any sin, who is good in his relationships, who does things in a spiritual manner, who is thoroughly trained in religion, who walks with God, and who strives to be an instrument for making others Godly.
I could share a number of quotes, but am just going to give you one on relationships that I found helpful.
"As we desire to have God approve us, let us show godliness in our relationships. Not to be good in our relationships spoils all our other good things. Naaman was an honorable man, but he was leper (2 Kings 5:1). That "but" spoiled everything. So such a person is a great hearer, but he neglects relative duties. This stains the beauty of all his other actions. As in printing, though the letter is never so well shaped, yet it is not set in the right place, it spoils the sense. So let a man have many things commendable in him, yet if he is not good in his right place, making conscience of how he walks in his relationships, he does harm to religion. There are many whom Christ will say at last, as to the young man, "Yet lackest thou one thing." (Luke 18:22) You have misbehaved in your relative capacity. As therefore we cherish our salvation, and the honor of religion, let us shin in that orb of relationships where God has placed us."