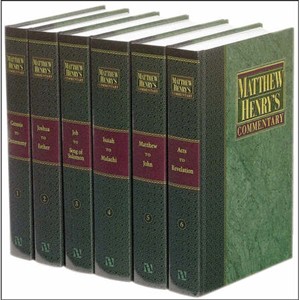 Since the beginning of this year I have been involved in the Matthew Henry Commentary Challenge with some friends, and just finished going through Leviticus! I have enjoyed this reading so much as it is like having someone "teach" me through every chapter of the Bible, and he brings out things I may not have thought of on my own.
Leviticus was mainly moral and ceremonial laws, and I liked the way the book concluded....."The last verse seems to have reference to this whole book of which it is the conclusion: T
hese are the commandments, which the Lord commanded Moses for the children of Israel in mount Sinai.
Many of these commandments are moral, and of perpetual obligation; others of them, which were ceremonial and peculiar to the Jewish economy, have notwithstanding a spiritual significancy, and are instructive to us who are furnished with a key to let us into the mysteries contained in them; for unto us, by those institutions, is the gospel preached as well as unto them, Heb. 4:2. Upon the whole matter, we may see cause to bless God that we have not come to mount Sinai, Heb.12:18. 1. That we are not under the dark shadows of the law, but enjoy the clear light of the gospel, which shows us Christ the end of the law for righteousness, Rom.10: 4. The doctrine of our reconciliation to God by a Mediator is not clouded with the smoke of burning sacrifices, but cleared by the knowledge of Christ and him crucified. 2. That we are not under the heavy yoke of the law, and the carnal ordinances of it (as the apostle calls them, Heb.9:10), imposed till the time of reformation, a yoke which neither they nor their fathers were able to bear (Acts 15:10), but under the sweet and easy institutions of the gospel, which pronounces those the true worshippers that worship the Father in spirit and truth, by Christ only, and in his name, who is our priest, temple, altar, sacrifice, purification, and all. Let us not therefore think that because we are not tied to the ceremonial cleansings, feasts, and oblations, a little care, time, and expense, will serve to honour God with. No, but rather have our hearts more enlarge with free-will offerings to his praise, more inflamed with holy love and joy, and more engaged in seriousness of thought and sincerity of intention. Having boldness to enter into the holiest by the blood of Jesus, let us draw near with a true heart, and full assurance of faith, worshipping God with so much the more cheerfulness and humble confidence, still saying, Blessed be God for Jesus Christ!"