Today I'm sharing something a little different. Just for fun I decided to try this blogger party/link up....it's always fun to meet new bloggers:-) so I decided to try this out. Go to
Lynette's blog
to join in!
For those of you who are new here, I started blogging in 2009 after I moved a couple states away from my family. My blog began to keep them updated on what was going on in my life, and I still do share some of that, but also share a lot of what I have been reading, listening to and thinking in hopes of encouraging others. Thanks for stopping by, and I hope you're blessed as you spend time with me seeking the Lord and following Him.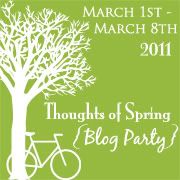 How would people describe your personality? (If they could only use ONE word.) Are they right?
Quiet. Yes, I would agree.
What celebrity/celebrities would create a "Star-Struck" feeling if you saw them in real life?
I don't know, I guess I'm boring, but I'm not real into celebrities. This reminds me of when I was younger and would go places with siblings, we used to have fun watching for and pointing out 'celebrity look-a-likes'. Then there was the time we were at The Return Of The King's opening night and a group of women saw a guy who looked like Viggo Mortensens's (Aragorn) twin slip into the movie. Everyone was excited, but no one had the nerve to go up to him, lol.
Who is your favorite blogger? Why?
Wow, this is a tough one! I love blog hopping and sometimes find myself wasting too much time reading through random blogs, I have a long list I subscribe too, but as for favorites....I have recently been visiting this
one
a lot, they have a lot of helpful encouraging posts for young women. Then I'll be in big trouble if I don't mention my friend's
blog
(kidding;-) which is encouragement for moms. I don't fall in that category now, but still follow. Last of all a
blog
that I always read, and always gets me thinking.
What is your comfort food/drink?
Chocolate and coffee. As far as I'm concerned chocolate makes the world a better place:-)
Be brave – tell us something very random and weird about yourself.
This may be weird to some people, it's definitely not common - I'm the oldest of 13 children and have 10 brothers.
Do you have a strong desire to do something you've never done? What is it?
Yes, I would like to travel overseas, see places I've read about.....
Movies: Action, Drama, Romantic Comedy, Documentary, Comedy? What are your favorite genres?
Oh, that depends on what kind of mood I'm in, but mostly drama, or romantic comedy. Favorites I have watched recently are
Mr. Holland's Opus
, and
Penelope.
Books: Fiction, Non-Fiction, Romance, Biographies, True Stories, Self-Help, Devotional/Study? What are your favorite types of reading material?
I love books, I love to read and wish I had more time for it. Lately I've been reading the Puritans, and working my way through Matthew Henry, I also enjoy historical fiction, and have a couple Christian authors I follow. Then there are old favorites like Lord of the Rings, Anne of Green Gables, The Chronicles of Narnia...did I mention I love books?!
Music: Funk, Rock, Country, Jazz, Classical, Film Score, Blues, Classic Rock, Crooner, Alternative, Heavy Metal, Techno? What are your favorite types?
Well if the question is what do I listen to most - it would be the metrical Psalms. I love the Psalms and have about 10 hours of them on my mp3 player. Secondly would be country music, though I have definite opinions on which songs/singers I like. I grew up in a large family where music was almost always being played so I've been exposed to many genres and have a number of songs I like.
If you inherited a million dollars, what is the first thing you would do with your money?
Well first would be tithing, then I would hardly know what to think or do - I've never been in a position where I didn't have to be careful with money. Knowing myself I don't think I would go crazy spending, but would want to use it wisely, and try to be a blessing to others like I have been blessed. This answer needs more thought...
Name one weakness of yours (confession is good for the soul).
Tending to feeling guilty and responsible for things that I shouldn't.
If you could live anywhere at all (and take all your loved ones with you), where would you go?
I would stay here in the South - it's home and I love it. Now I wouldn't mind if I could move some of my loved ones here with me:-)
Strange Talent? Can you juggle basketballs, put your legs behind your head or perform some other strange feat?
Nothing I can think of, well I'm good at getting babies to sleep - is that a talent?!
What's something you consider yourself to be good at? (Don't worry, it's not bragging, it's acknowledging a God given gift).
Working in the kitchen, running a home, organizing...
What is one of your favorite things to catch a whiff of?
Something baking, freshly mowed grass, a pot of coffee brewing first thing in the morning...too hard to choose just one!
When you leave a social gathering, do you wish: You would have talked more or You would have talked less?
Talked more, I tend to be quiet in groups and prefer one on one conversation.
If money wasn't a factor, what stores would you shop in?
I don't even know - never shopped in stores like that! I could have a lot of fun on Etsy though if money were no issue:-). I love finding a bargain and I don't think that would ever change. And of course I would buy books.....lots and lots of books:-)
What is your greatest fear or strange phobia?
I don't want to share my greatest fear with the whole blogging world, but a silly one I do have is when I have to drive somewhere I've never been, find my way on new roads, etc. I've always done fine, so like I said - silly.
What are your favorite animals?
I loved the
dairy goat herd
I raised with my siblings when I lived at home, it was so much fun going to all the shows and fairs, and milking is so relaxing. Sometimes I miss it. Another favorite is my family's dog, Snow White, a corgi mix stray who adopted us seven years ago. I miss her!
Are you a hopeless romantic?
I don't think so.
What movie or book character can you most relate to?
Probably a lot because I don't enjoy a book or movie much if I can't relate at least somewhat to the characters. Anne of Green Gables is on my mind now, mainly thinking of how much she wanted a place to belong in the beginning of the book. I know how that feels.