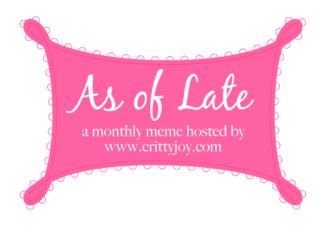 I stumbled on this link up the other day and thought it would be a fun way to post an update......
.
As of late it has been hot and stormy. This is the storm my brothers and I drove through to get to prayer meeting this week. Lots of hail, and some of us were dripping wet after running from the car to the building. I say some of us, because as a girl I got an escort with an umbrella:-)
I've been learning to use my new sewing machine (thanks Jessica:-). I made this headband with a lace applique....
....and this one out of a blouse that was too big for me! It can be folded into a narrower band, or worn open like I am here.
I've been doing a lot of crafting. I made a few pairs of these earrings for myself and friends. I've also been knitting a lot lately, but that project is a gift so I better not post pictures - the wrong person might see it!
My new hobby is spray painting. I picked up a few baskets for 49 cents each at the thrift store and painted them white. I love baskets, they're a pretty way of storing things.
Another basket I painted. This one is holding sewing supplies on my desk.
I've been working on my room a lot, and attempted my biggest painting project yet - a dresser. I also painted a wooden chair white, but don't want to share a picture till I get some cushions made for it.
I've been reading this, perhaps you all read the series of letters from it that I posted a week or so ago...
I've been thinking about how thankful I am for my church - it's such a blessing!
And of course drinking plenty of coffee to keep me going:-)


I hope everyone has a good day!
Sharing with Coffee Talk,
and Caffeinated Randomness.
,